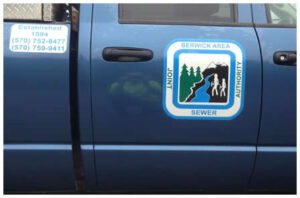 BAJSA owns and maintains a comprehensive sanitary sewer system consisting of Berwick Borough, Briar Creek Borough, Briar Creek Township, Salem Township and Mifflin Township. The treatment plant, located in Berwick Borough, was expanded and upgraded beginning in 1993 this upgrade was to remove the U-tubes in the aeration tanks and added 6 submersible mixers and diffused air. Two new circular clarifiers were added.
In 2002 a Centrifuge was added to help in sludge removal. The comminuter was removed and replaced with a bar screen to remove debris. In 2009 we underwent another upgrade to meet the Pennsylvania Department of Environmental Resources 2005 Chesapeake Bay Initiative, we also added a Cannibal System which further aid in sludge and debris removal. A SCADA system was incorporated into the system to aid in Nitrogen reduction.
The plant has a design flow of 2.2 MGD is currently operating at 1.4 MGD. The plant consists of an anaerobic basin, an aerobic basin, two secondary clarifiers, two final clarifiers and 3 chlorine contact tanks for sludge removal we have a centrifuge and a belt filter press in addition to the cannibal system.
The BAJSA holds regularly scheduled monthly meetings the second Wednesday of each month at 6:00 p.m.
Any problems or concerns with sewer lines, please contact us at (570) 759-9411 or (570) 752-8477.